CPAs holding Practising Certificates, CPA Firms and Corporate Practices can log in to the AFRC's Online Application System for:
annual renewal of practising certificates
annual renewal of CPA Firm, Corporate Practice and PIE Auditor registrations; and
application for registration as a Registered PIE Auditor.
AFRC, ICAC and SFC first tripartite operation against suspected misconduct and corporate fraud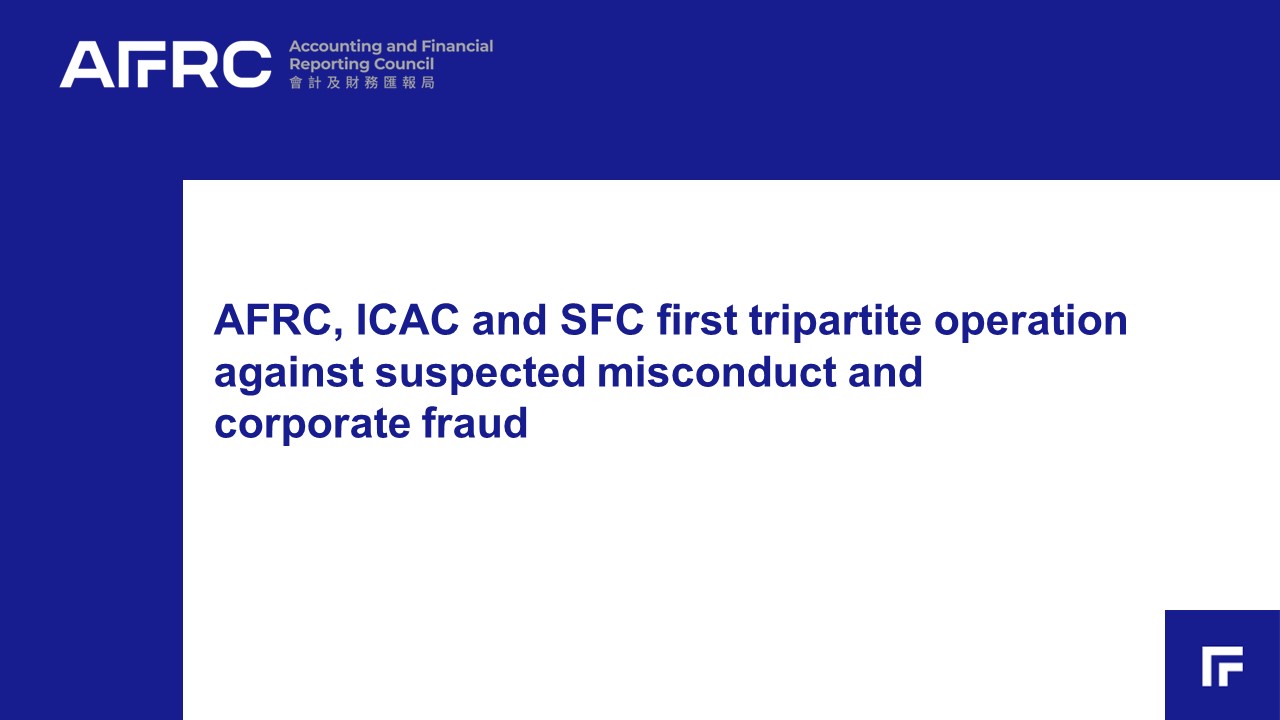 19 Oct, 2023
The Accounting and Financial Reporting Council (AFRC), the Independent Commission Against Corruption (ICAC) and the Securities and Futures Commission (SFC) conducted the first tripartite joint operation (Joint Operation) involving two Hong Kong-listed companies on suspicion that they falsified corporate transactions totalling HK$193 million (approximately RMB177.56 million).
The Joint Operation involved a search of the offices of three public interest entities (PIE) auditors associated with two listed companies.  The search also covered the premises of these two listed companies and other relevant parties.
More than 50 AFRC officers participated in the Joint Operation.  A total of 16 premises were jointly searched by AFRC, ICAC and SFC.  Three persons, including an executive director of a listed company, were arrested by the ICAC for suspected offences of agent using documents with intent to deceive its principal under the Prevention of Bribery Ordinance. 
 The Joint Operation and collaboration with the other two agencies manifests the staunch determination of the AFRC to combat financial crime, illicit activities and professional misconduct in order to restore public trust in the financial reporting quality of listed entities and their auditors.
For details, please click here.